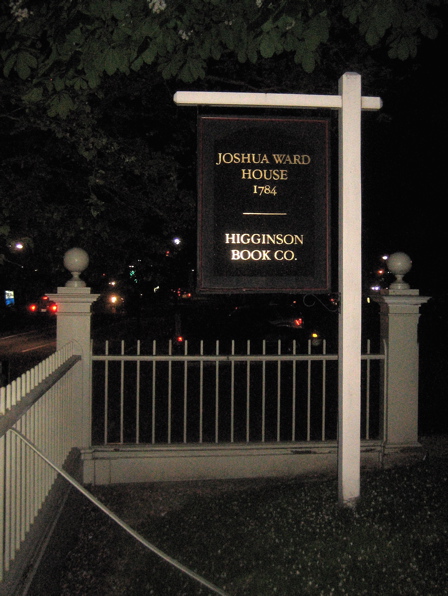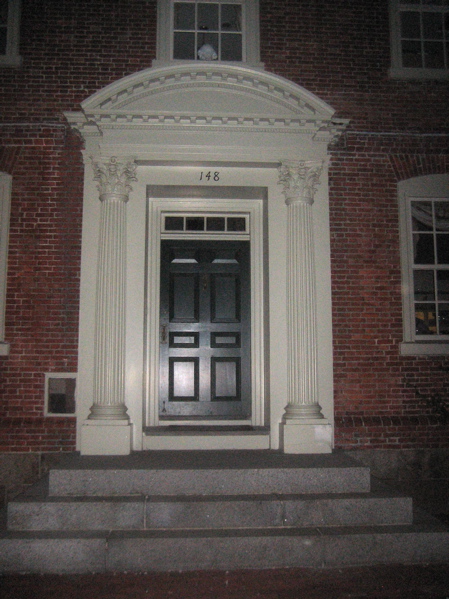 Which Joshua Ward?
by Sandy Nichols Ward
On Friday night May 29, 2008, I drove through Salem with a friend and decided to show her the Joshua Ward house. I had heard Salem historian Jim McAllister tell of its preservation and I was curious to see it. I didn't remember details, but thought it should be on or near Washington Street. We found it easily at 148 Washington Street.
In the darkness I couldn't photograph the whole house, but I took these photos of the front door and the sign proclaiming Joshua Ward House 1784. For a better photo, see Jim McAllister's webpage "The Ups and Downs of Saving Buildings" (scroll down to section on saving the Ward House).
Which Joshua Ward lived here? Joshua Ward was once a common name in Salem.
My curiosity about the name Joshua Ward began long ago. The name appears several times in my family tree. In 1965 as I prepared to marry Peter Ward, I learned that he also had ancestors named Joshua Ward, also from the Salem area. My mother wondered if we might be related. Which Joshua Ward might we have in common? She did a quick comparison of the dates of the various Joshuas known to us then. No matches were found.
Some years later we looked more carefully at the family genealogies and discovered a link. I had in fact married a 7th cousin -- not that anyone keeps track of such distant relations! One of the Joshuas in Peter's line was an uncle of one of mine, back in the early 1700's. Our common ancestor was a great-great-great-great-great-great-grandfather, Deacon Miles Ward (1673-1764) of Salem. Peter is descended from his son Joshua (born 1699); I am from his son Miles (1704-1792), via the Deacon's grandson Capt. Joshua Ward (1752-1825), and in turn his son Joshua (1776-1840). That's where the Ward name stops in my line, and the Nichols surname entered with the marriage of Joshua's daughter Mary to Dr. Andrew Nichols in 1833.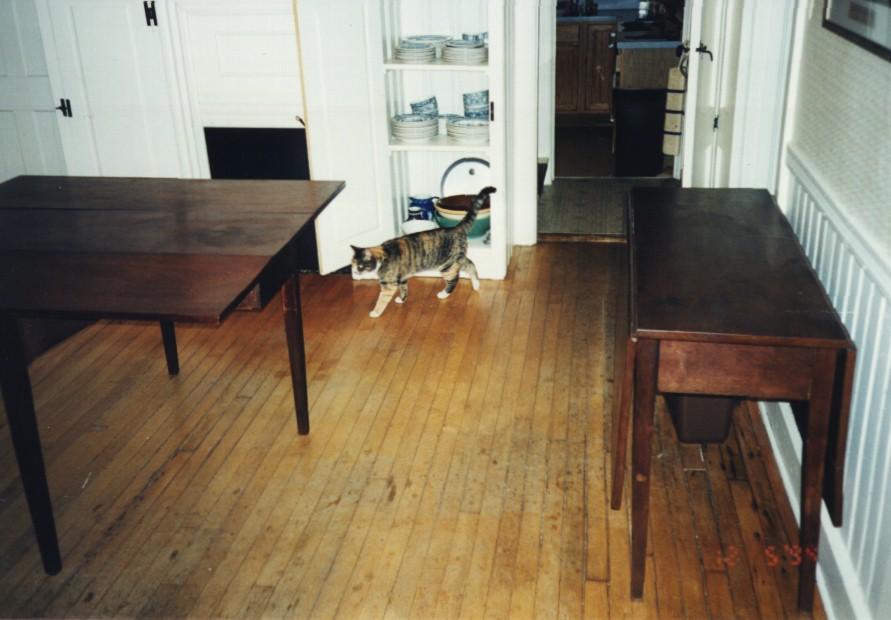 As a child in the Nichols family more than 100 years later, I didn't know about any Ward ancestors. I only heard the name Ward in connection with two old dining-room tables which everyone called "the Ward tables." I didn't understand why they were called that. When I asked, the answer was always the same, "They came from the Ward house in Salem." This was said with an air of certainty. No further explanation was given. In 1999 I found some documentation about the tables confirming that they had once belonged to Joshua and Susan (Susannah) Ward, Salem. One table had passed to their daughter Mary Ward Nichols, and eventually to Mary Eliot Nichols of Danvers (granddaughter of Mary Ward Nichols), who gave it to my father in 1957 as we moved into a new house. My father brought that same drop-leaf table and its matching one to me in western Massachusetts in the 1990's; see accompanying photo of the tables in the house I was then renting.
My father smiled and repeated a comment I'd heard from him before, "George Washington may have eaten at these tables!" Huh? He liked to joke and tease us, so I wasn't inclined to believe him. I liked the tables because they were so USEFUL, not because of any history or stories associated with them. In 1998 when I needed a plain smooth surface on which to spread out an antique wedding veil (which I was examining for possible use by my daughter), I naturally used one of these tables. The dark mahogany surface proved a perfect background for the veil, so we took several beautiful photographs. I posted the photos on a website and sent the link to my daughter, and also to various textile experts as I sought advice about how to clean and preserve this old fabric treasure. Gradually I added more and more of the veil's history onto that webpage, including mention of two Joshuas, though I was then focusing mainly on the veil and the brides who wore it.
One day in 1999 I wrote an accompanying webpage called the History of a Table or Two. It was fun to trace the clues about whether George Washington had had anything to do with my tables. It turns out that George Washington did come to Salem and did stay in Joshua Ward's house in October 1789. There's no proof of course that he saw or used these tables, but it is possible that he did. Writing that story was an amusing diversion in a busy year. I did not stop to think about other implications of the history I had written.
Not until after my 2008 stop in front of that Joshua Ward house... Not until some hours later, after I lay in the guest bed at my friend Helen's home thinking about the fun we'd had visiting together and swapping family stories as we toured Danvers and Salem. I hadn't yet shared the veil story with Helen, but meant to. I'd recently rewritten that story and submitted it to the Danvers Herald. (See veil story published June 5, 2008, or my own page about the veil.) I'd brought a printout for Helen, but it was still buried in my bag. Fearing that I'd forget, I jumped out of bed, pulled out the paper and set it on the table where we'd both see it in the morning before my departure. I re-read it quickly --thinking of Helen as the reader-- and was astonished at new connections that popped out at me. So many of the sites we had just visited related to the history of that 1833 veil. I began to annotate the margin. When I reached the part about the first bride, I was stunned. Mary Holyoke Ward of Salem. Could SHE have come from that Ward house in Salem? I already knew that her father and her grandfather were both named Joshua Ward. WHICH Joshua Ward had owned the house at 148 Washington Street?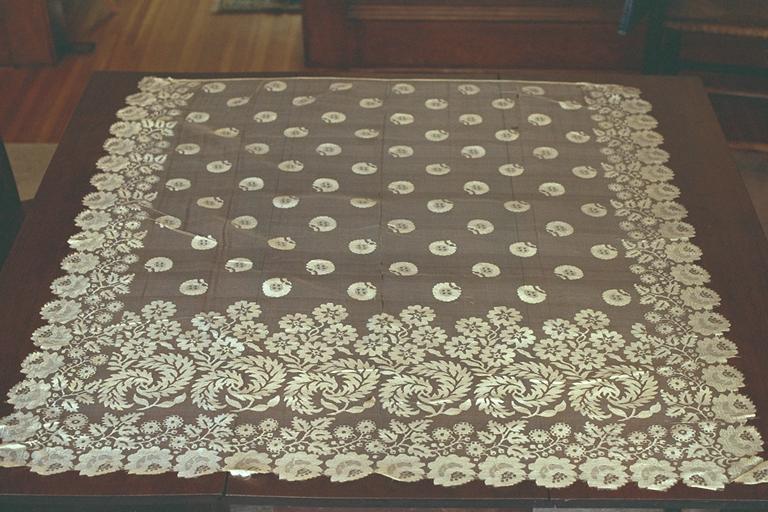 Is it possible that this photo (taken in 1998) of the 1833 veil spread on top of my dining table re-connected two antiques from the very same Salem house? Did the bride, veil, and tables all come from that house? It seems likely; the dates correlate well. If so, why hadn't I thought of this before? If this house was so connected to our family, why hadn't I ever visited it before? In my childhood I heard tales from my grandfather about his childhood visits to various family homes in Salem (such as his Grandmother Stanley's), but I can't recall any talk of visits to the Joshua Ward house. Nor does the house look familiar to me today. What had I missed?
Seeking answers to these puzzling questions, I consulted some family members in June 2008. An older cousin in CA, who knows much family history and often visits Salem and Danvers, didn't recall any visits to the Joshua Ward house. My cousin Emily, who had worn the veil after me, was vague about the relationship of the Joshua Ward house to our family's history.
Next I re-read historian Jim McAllister's webpage about the 1978-79 restoration of the Joshua Ward house. I noted that the house had been converted to a hotel (Washington Hotel) by the late 19th century and later was buried behind commercial developments. No wonder I grew up unaware of its existence. It was hidden from view, and hadn't been a family home for many, many generations.
There are, of course, books and genealogies I can consult. Coincidently, a significant publisher of local histories and genealogies, The Higginson Book Company, is now located in the Joshua Ward house! The owner has invited me to come for a tour, and sent me a compilation of Ward House Notes. WHICH Joshua Ward lived there? The answer turns out to be the GRANDFATHER of the bride. After his death, the son Joshua Ward, Jr. and other heirs sold the Washington Street estate in 1827 -- six years before granddaughter Mary's 1833 wedding.
My cousin Janet Derouin, who is writing a book about Pine Knoll family history, knew this part of the story. She does not know, however, where Joshua, Jr. and his family lived in Salem at the time of Mary's wedding. We do not know if the tables from 148 Washington Street went with them, so it is still unknown whether the wedding veil and tables were ever together in Salem. They did both get to the Pine Knoll house in Danvers, and later to my parent's home, and then mine.
I plan to visit the Joshua Ward House in May 2009. I'm eager to see inside that building and learn more about its former occupants and history. As I uncover more of the history, I'll add notes here or in my Danvers blog: RememberingDanvers.blogspot.com. - Sandy Nichols Ward
--------------------
[Webpage history: created June 2008; updated May 2009.]