History of a Table or Two

by Sandy Nichols Ward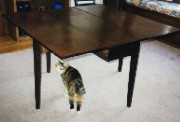 The Mahogany dining room table now in my dining room came from my father's family. My father, Nathan Nichols, used to joke that George Washington may have dined on it! He never explained this and I never paid much attention. It was routine in our Nichols family to talk about times long past. We lived on Nichols Street, said to be named for the family because some piece of land along there (I never knew exactly where) had been in the family since 1638 (or 1651 or ?). My grandfather lived next door to us and not far away was the old Pine Knoll homestead his father Andrew Nichols had built in 1861. Nobody threw anything away, so of course these houses contained lots of old used furniture. We weren't collectors of antiques; we simply handed down old things from generation to generation and avoided spending money for new.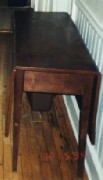 In 1992 my father brought me many loads of old family furniture and papers as he prepared to move to retirement housing. My sister and I divided up these items, moving half of them to her home in New Mexico and leaving half with me in western Massachusetts. A pair of drop-leaf mahogany tables remained with me. We had always called them the "Ward tables", because they had supposedly come out of a Ward house in Salem long ago. I had married a Ward and now carried the name, so it seemed fitting that I should keep the Ward tables and then pass one each to my two children. Besides, I really liked these simple, functional tables and could avoid buying both kitchen and dining room tables. (I had returned to New England after years in a tiny California house and was glad to have help in filling the big place we were then renting.) My father repeated the story that George Washington stayed once at that Ward house and MIGHT have eaten on one of these tables.
Now in 1999 I am finally digging through the family papers and have found clues about the history of these inherited tables. And the clues do support both the "Ward" name and the possibility that George Washington saw these tables.
Clue 1: handwritten note from Aunt May (Mary E. Nichols, my grandfather's sister who lived at Pine Knoll):

"Dear Nathan,
I would like to give you the dining-room table which I loaned to your father. It is a duplicate of the one here in the house which belongs to the estate. Originally they were in Great grandmother Ward's house, which my grandmother Nichols used together in her dining room when she had a Christmas dinner or other party.
I congratulate you on your new home.
Love from Aunt May."

The date "7-23-57" has been added, in my mother's writing, to the above note. In 1957 my family moved into a newly constructed home (121 Nichols St, across the street from our previous house) and, for the first time, had a real dining room and therefore need for a table. I remember using this table many times. I also remember lining up BOTH tables when we had a large dinner party, though I have no idea when the matching table came to us.

Clue 2: handwritten note (different handwriting; Aunt Margaret's?) titled "Hist of Tables", with date "Nov 1957" added by my mother:

"Belonged to Joshua & Susan Ward, Salem, died 1840-1860. Owned by Mary Holyoke Ward married Andrew Nichols, M.D. She died 1880. One half owned by Andrew Nichols. One half Mary Ward Nichols. Mary Ward Nichols['s] half [passed?] to Mary E. Nichols given to Nathan P. Nichols. The half given by Mary, William, and Margaret."

Clue 3: Two newspaper clippings found in an envelope addressed to Miss Mary W. Nichols. One end of the envelope is labeled "Joshua Ward's chair" and both clippings tell about the Joshua Ward house on Washington Street [Salem]. George Washington is said to have visited that house in October 1789 and slept in the northeast chamber. He sat on a Hepplewhite chair in that room and wrote in his diary. [The Hepplewhite chairs have also been handed down through our family.] No mention of tables, or of dining.
Conclusion: I have inherited a pair of drop-leaf Mahogany Dining Room Tables that were originally* from the Joshua Ward House on Washington Street in Salem, Massachusetts. It is possible that these tables were in that house when George Washington visited in 1789. Whether he dined there, or dined on one of these tables, is of course unknown and rather unimportant to history. But it makes a good story to pass along to my heirs when they inherit old used dining room tables.
---
Written January 3, 1999. Revised March 26, 1999. Images moved from former server 3/6/08.
See related story, Which Joshua Ward? posted June 25, 2008.
*2009 Update: After a wonderful tour of the Joshua Ward house and discussions with its present owner and with some of my cousins, I must add a note of correction. My tables are NOT likely to have come from the house at 148 Washington Street, Salem, which belonged to the father of the Joshua who owned the tables. The senior Mr. Ward had died in the 1820's and his house was sold out of the family. His son Joshua Ward (1776-1840) was already married and living elsewhere in Salem (address unknown) with his wife Susan/Susanna (nee Holyoke) and their children. It is possible that the tables came from Susanna's side of the family or were acquired by Susanna and her husband during their marriage.